Shri Mahesh Ghatradyal – Founder of France Inde Karnataka

« Thanks to your donations, you made it possible to build a much-awaited hospital in this poor area of India. You are the breath of this achievement.
With these few lines, I hope to draw your attention to this great work achieved because of you.
It is in the song of your generosity and selfless action that all of you, friends and members of France Inde Karnataka, show the path of human being's highest duty »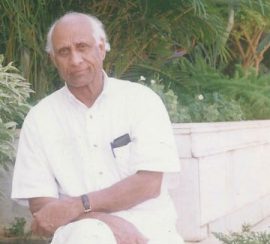 Juliette Sushila Ghatradyal – President of France Inde Karnataka
«  When I was only 15 year old, my father called me in his office to talk to me about his project to open a charity hospital in the region where he was born, in South India. This confidence created a life-long bond between us. He made his project come to reality with the creation of the association France Inde Karnataka and the opening of the hospital in 1997. This adventure, it is above all the one of a man, born orphan, who decided to help the poorest inhabitants of an area neglected by public authorities. My father always told me: "we all come from the same earth, and we cannot forget our neighbor". For these values, I continue his work, step by step, in order to develop the hospital in a sustainable way. I hope to pursue his dream by creating a place specialized in the education of children from 1 to 5, so as to eradicate, as he wished, infant mortality, and to help future mothers, preventing more children from growing up lonely and ensuring them a better future. » « Let's make a difference: let's bring life » – 2008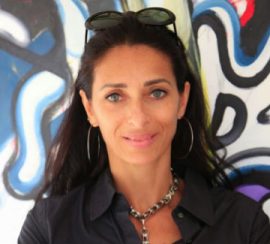 Christine Louppe – Treasurer of France Inde Karnataka
«  Pupil of Sri Mahesh since 1990, I attended at the creation of FIK in 1994. With other pupils of goodwill we agreed to be debit by 5 Franc every month during two years. It enabled us to start before long-term financing was found. At that time his teaching was oral but to find more funds he put twenty years of work in writing. « Yoga et Symbolisme » and « Souffle parole de vie » have been published. He also created a VHS video cassette.
Every month when he taught Yoga he spoke to us about the progress of the works. His eyes shone. So when his daughter Sushila asked me to become treasurer in 2015, I looked my busy timetable then I remembered how important the association.»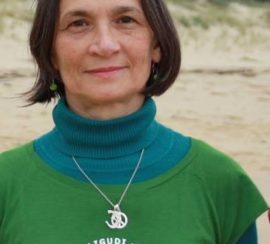 Christine Tortora – Ambassador for Helping Hands

« When I heard about the association Helping Hands, I right away thought of France Inde Karnataka and Halligudi hospital. It was obvious to me that we should grasp this opportunity in order to support the hospital. In addition, projects are priced and reports are always elaborated in a transparent and professional way. I was convinced that my small help could bring additional and obviously necessary means to attend patients at the hospital. As it came, I was lucky enough to be able to pay a visit to the hospital, during which I could meet the staff who runs it in a very efficient and pragmatic way. They gave us a tour of the structure, providing us with many information, in a very kind way. This moment will stay in my husband and I's memories forever. It stimulates me even more to continue to raise funds for the projects. »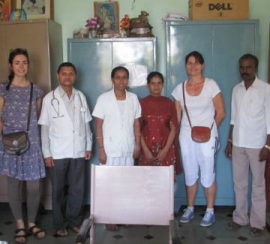 Géraldine, volunteer nurse at the hospital

 » Halligudi hospital, as nicknamed by inhabitants themselves, is an essential space for local population, a place full of life and open to the world thanks to the visit of French volunteers. It is also a necessity for people who cannot afford to go to the closest town, located over 45 minutes by bus from Halligudi, to get treatment « 
 » The ambulance tour is of primary importance. It takes place every other day in several villages. Inhabitants sometimes walk more than 10 kilometers to come to the healthcare center. The ambulance tour then appears as an advantage for the population. It is free of charge and enables us to carry people who want to consult a doctor but are unable to do so by their own means. «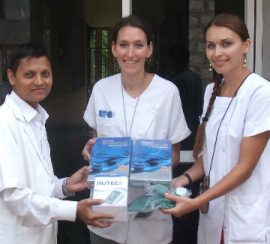 Léticia, volunteer nurse at the hospital

 » The hospital provides villagers with the opportunity to access quality healthcare, although living in isolated areas. This is even truer as the association made an ambulance available to them, which comes to pick them up on a daily basis and brings them back once consultations are over. « 
 » Moreover, monthly ayurvedic camps create a link between families and enable doctors to follow up every child in the surrounding villages. Lastly, thanks to the Indian staff and to French volunteers, the two cultures complement each other, enriching the project. »